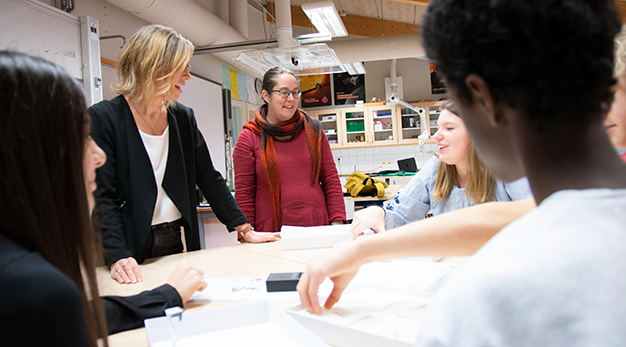 English Speaking Class
Paradisskolan has an English-language profile with an English Speaking Class in grades 4-9. In these classes (one class within each grade in years 4-9), a large part of the teaching is conducted in English.
What is it like, being a student of the English Speaking Class?
-Watch the film and find out!
Watch the film directly at our Vimeo channel here
Paradisskolan's English language section has a long tradition. Students receive instruction in English in SO (geography, history, religion and social sciences) and NO (chemistry, biology, physics and technology). The English Speaking Class is ideal for students wanting the opportunity to perfect their language skills and lay the groundwork for both future studies and professional life in an international environment.
The immersive approach does not stop at the end of class, however. When spending time with friends between lessons or at lunch, students also use English, ensuring that they achieve maximum proficiency in both spoken and written English. Close connection to the other Swedish-speaking classes ensures that students also have ample exposure to the Swedish language.
ESC students are renowned for their high ambition and exemplary work and study habits. Our teachers are all experienced, qualified and certified. They work closely together and engage in a range of cross-curriculum activities and projects.
A foundation for the future
At Paradisskolan we feel that each student should have the opportunity to realize their best possible self. To reach their full potential. To feel a sense of hope and trust in their future.
To that end, we have created a calm, safe environment that is not only conducive to maximum learning, but to getting the most from a fun and challenging curriculum that includes participating in various projects, taking part in study visits and travel to other countries, and last but certainly not least, making new friends.
When a student leaves us after grade 9, we want them to be well equipped for whatever future they may face. To lay this foundation, we provide a teaching and school environment where students are given the chance to learn both facts and skills that will benefit them for the rest of their lives. This includes, for example, group problem solving, taking responsibility and initiative, and communicating and collaborating with others.
Simply put, our aim is to help students feel competent and strong enough to take on whatever challenges await.
Admission
Our students come from many different parts of the world, as well as, of course, from right here in Sweden. Those starting in the 4th grade can submit an admissions application.
Click here for application via e-services!
The ESC follows the basic regulations and the Compulsory School Syllabuses set out by the Swedish National Agency for Education - Skolverket.
Senast granskad
2023-04-03
av
ANDGLE