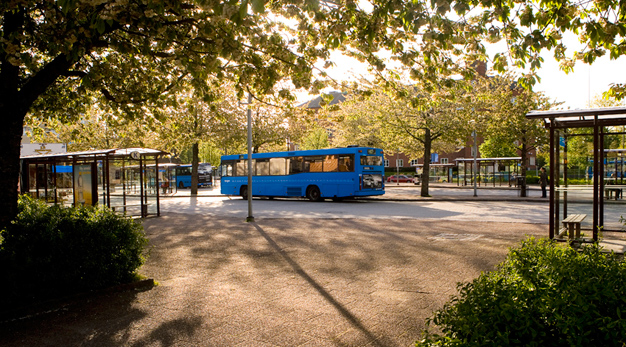 Bus, Boat, Train and Air Travel
This is where you can learn more about traveling within the region by bus, boat, train and air.
Contact center
Opening hours
Monday – Friday: 8 a.m. - 4:30 p.m.
Call or email us
Visit us
Gärdhemsvägen 9
461 83 Trollhättan
Bus and Train
In our province, Västtrafik AB is responsible for public transportation services. Public transportation is of great importance for the people living in the region, to get to where they need be: work, school and to different service institutions. Public transportation also contributes to less traffic-and environmental damage.
Resecentrum is the train- and busstation in Trollhättan. The trains and regional buses depart from here. If you look at Västtrafik's homepage you will find travel planners and timetables.
Local Transportation Within the city limits of Trollhättan it is easy to get around by bus. From Drottningtorget, located in the middle of the city, many buses depart. You will find travel planners and timetables on Västtrafik's homepage.
Go to Västtrafik´s homepage in English
Train - The train ride between Trollhättan and Gothenburg takes about 35 minutes. Because the train between Gothenburg and Oslo/Karlstad passes through Trollhättan we have very good connections in both directions. To go to Stockholm one can either travel to Gothenburg and change trains there, or go via Öxnered and Vänersborg on X2000.
Boat and Harbour
For many hundreds of years, we have been fortunate to have the Göta River running through Trollhättan, connecting Lake Vänern with the West Coast of Sweden. The harbor of Trollhättan is located within one of western Sweden's largest industrial areas. In 1998, a new large freight terminal was built next to the harbor. It offers transport- and logistics solutions for different companies in the region, where rail, truck, air and container freights are part of the transportation solution.
The guest harbor for pleasure boats is beautifully located at Spikön, in the heart of Trollhättan. It can accommodate 45 boats, and guests have access to water and electricity.
Go to Sjöfartsverket.se in English
Air Traffic
From our airport "in the middle of the city" - only a 10-minute drive from the heart of Trollhättan - it takes less than an hour to travel to Bromma Airport and from there either continue domestically or internationally. It is very convenient with such a small airport. Check-in is easy and fast. Free parking. It is also possible to use one of the bike paths and ride a bike all the way out to the airport.
Reviewed
2016-05-23
by
CLABEN