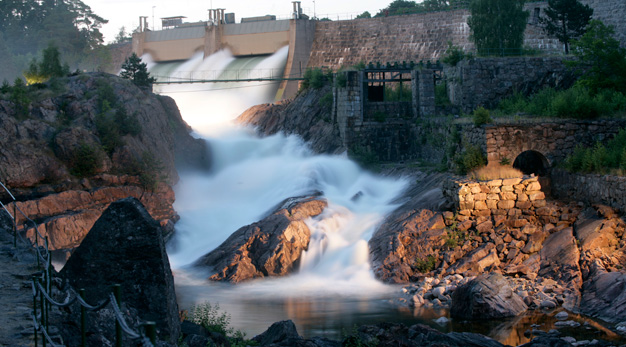 Fallen, som släpper 300 000 liter vatten i sekunden. Foto: Joachim Nywall
Water in the falls area
The lock gates are opened and the mass of water is released into its old passage. This amazing spectacle of energy demonstrates the forces that engineers have managed to tame with locks and power plants.
Contact center
Opening hours
Monday – Friday: 8 a.m. - 4:30 p.m.
Call or email us
Visit us
Gärdhemsvägen 9
461 83 Trollhättan
The Trollhättan waterfalls no longer roar continuously as they did in the past, but you can feel the raw force and atmosphere that has attracted visitors to Trollhättan for centuries.
When the water authority, Vattenfall, opens the lock gates the river goes back to its original wild nature and 300,000 litres of water per second plunge and roar along the riverbed.
more about the waterfalls and locks on the website www.fallochsluss.se
Reviewed
2018-08-30
by
CLABEN