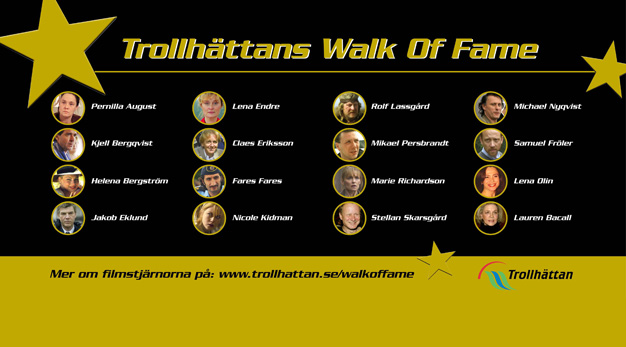 Walk of Fame
Trollhättan is a film city; over half of Sweden's full-length films are made with Trollhättan as their base. The Walk of Fame along Storgatan has a long line of film stars who have featured in films made in the Trollhättan region.
Contact center
Opening hours
Monday – Friday: 8 a.m. - 4:30 p.m.
Call or email us
Visit us
Gärdhemsvägen 9
461 83 Trollhättan
The stars are nominated by a jury and to be included in Trollhättan's Walk of Fame, a person must have played a prominent part in a film as well as having a connection to the region of Trollhättan.
It could be a person who has made or acted in a film in the region or a person who has been in a film outside Trollhättan who has another connection, such as growing up here or living here.
Reviewed
2016-03-03
by
KATLOO