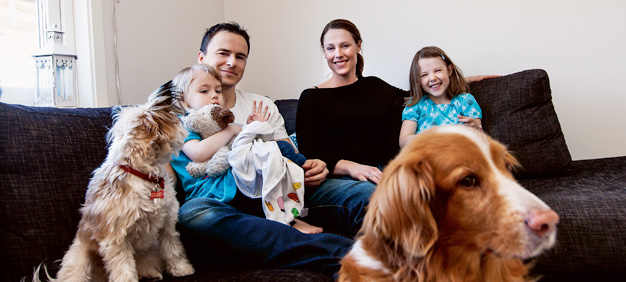 They chose Trollhättan
"We have found a great city where everything is close by. At the same time, it is only about 35 minutes to my job in Gothenburg on the train," says Elina.
Contact center
Opening hours
Monday – Friday: 8 a.m. - 4:30 p.m.
Call or email us
Visit us
Gärdhemsvägen 9
461 83 Trollhättan
Elina and Magnus Wik left their apartment in Mölndal to buy a house and start a family in Trollhättan, about 80 kilometres north of Mölndal.
Today is a relaxed Saturday off in the Wik family's home. The circus has come to town and Molly, 6, and Olivia, 3, are very excited about the evening to come. The dogs, Svante and Doris, have just come in from the large wooden deck and chase each other like a couple of whirling dervishes in the renovated, extended 1950s house.
The family has found its own idyll in Trollhättan with a small garden, close to the pre-school, school and grocery shop, and yet only a few minutes from the city centre.
Fast commuting
Elina commutes easily to her job in Nordstan, central Gothenburg. Cycling from the house to the station takes five minutes, then a train ride of around 35 minutes and a short walk to her job - door to door in less than an hour.
For his part, Magnus works at an expanding Trollhättan company which is so close that he can easily go home for lunch and let out the dogs, or quickly pick up the children from pre-school if they should fall ill.
Elina is originally from Ängelholm and Magnus comes from region of Ludvika.
"One parent from Scania, the other from Dalarna - before the children were born we joked about what sort of accent they would have," laughs Magnus.
Lower house prices
The reason for them ending up in Trollhättan was not really that strange. The seed was sown by some of their friends in Gothenburg, who happened to come from Trollhättan.
"We started playing with the idea of moving here because there are wonderful areas and reasonable house prices. The city also has a lively centre with shops, restaurants and plenty of cultural events," says Elina.
They realised just how much potential Trollhättan has for people who want a family life and have active leisure interests. Elina has found her favourite place here: Ängens farm, which has a popular riding club just on the outskirts of the city in rolling fields, a large forest area and fantastic riding paths.
"That's where I enjoy myself most. I usually go once a week and have a riding lesson, but sometimes I go on an extra riding tour too.
Close to the beach
Another major benefit for Elina and her family is swimming in lakeVänern in the summer.
"Coming from Ängelholm, it is really important for me to have fine sandy beaches this close. It only takes us fifteen minutes by car," says Elina.
Reviewed
2016-03-03
by
KATLOO